Life doesn't stop when your appliances do. They help you to maneuver everyday life to keep it hassle free. Dishwashers, stoves, washing machines, even your little microwave inconvenience you when they break down without warning. The last thing you need is an unreliable company who promises to fix your washer but leaves you hand-washing for much longer.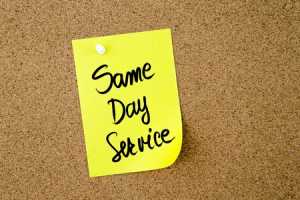 Companies can promise to come the same day, but then don't show up until hours later, or worse, another day. The wait for a same day appliance repair specialist can throw you for a loop. Most of the time you'll be given a time frame that isn't certain, leaving you waiting at home or rearranging your daily tasks until they arrive at the last hour.
Same day appliance repair should be a reality. Check out these tips for how to pick a trustworthy team for same day appliance repair:
Contact Them
Check the company's website to make sure they offer a same-day guarantee. Likewise, read through the company's advertised services and contact them about your situation. By contacting them, you're able to see if they are courteous and get an approximate time for your appliance repair
Read Online Reviews
What better way to know about a reputable service than by many who have already experienced it first hand. Most companies are registered to online review websites like Yelp and Google+, or even promote their reviews on their own website to let previous customers rate and comment on their service experiences. Checking the company's reviews will inform you of their quality of work and efficiency, knowing if they really do come on time, or later.
I-Fix Appliances understand how valuable your time is
This is why we make it our priority to provide same day appliance repair services for all of your appliance repair needs. For a reliable team and a convenient and effective service, contact I-Fix Appliances or call us at 647-642-1212.