Your refrigerator is probably the most important piece of equipment in your kitchen. Without it, where would you put your food and beverages? So if anything happens to your machine, what can you do? In most cases, when something is wrong with the refrigerator or freezer portion of the appliance, a quick Refrigerator Repair is all you need to get you back up and running. Either find another way to keep your milk from spoiling and your butter from melting or better give us a call and we will be there right away!
Lucky for you, our Refrigerator Repair specialists understand that same day service is extremely important. No one expects you to run the risk of spoiling your food so we will send someone to you, that day, as soon as possible.
Our Fridge Repair Technicians Repair All Brands & Models of Refrigerators:
Worried that your machine won't be a brand we can service? That is completely understandable as there are so many refrigirator types in the market; however, our technicians are fully licensed and insured to repair brands including (but not limited to):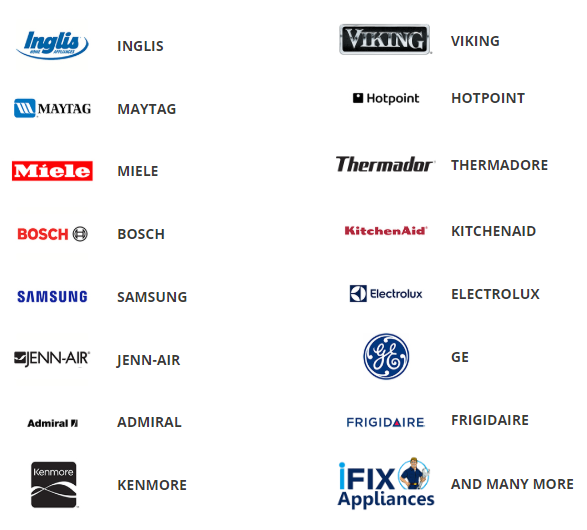 Related Article: HOW MUCH DOES FRIDGE REPAIR COST IN TORONTO?
Common Refrigerator Problems:
While some breakages are pretty obvious, like the light fuse is blown out or the temperature of the refrigerator continues to drop, there are some more subtle problems with a damaged appliance. If you see any of the following signs, give us a call and we will send someone over to you right away: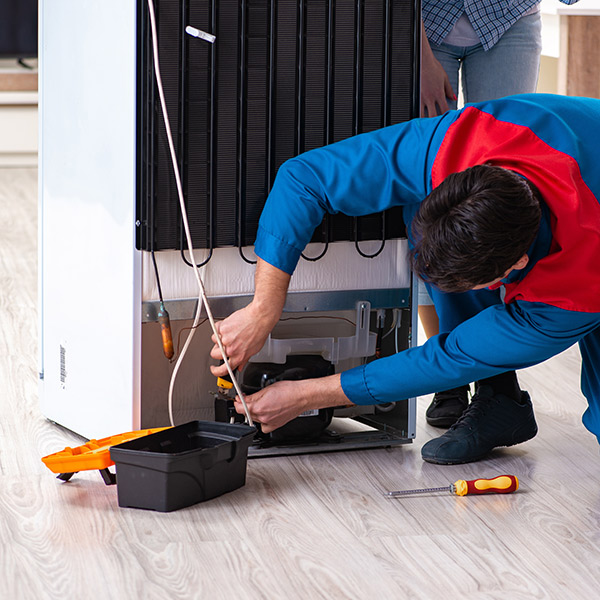 Water leakage from under the refrigerator
Water inside the refrigerator
Ice maker is not working
The freezer is unable to maintain temperature
The refrigerator has stopped working altogether
and/or the refrigerator has moisture on the outside walls
Visually, it is easy to determine if there is something wrong with your refrigerator. A puddle of water at the base of the machine probably indicates that the appliance is unable to regulate and maintain a proper cooling temperature so ice (from freezer) is melting or moisture is forming.
Major Refrigerator Malfunctions
But what is actually wrong with the machine can be more difficult to determine. That is why we encourage you to call us as soon as you see one (or more) of these signs, because our technicians are trained to spot the cause of problems right away. Usually, when the refrigerator is not working properly, it is because one (or more) of the following parts is malfunctioning:
Condenser Fan Motors
Water Inlet Valves
Defrost Heater Assemblies
Evaporator Fan Motors
Door Gaskets
Ice Maker Assemblies
Electrical Wiring
Control Modules
Defrost Timers
Defrost Thermostats
Starting Device Kits
Thermistors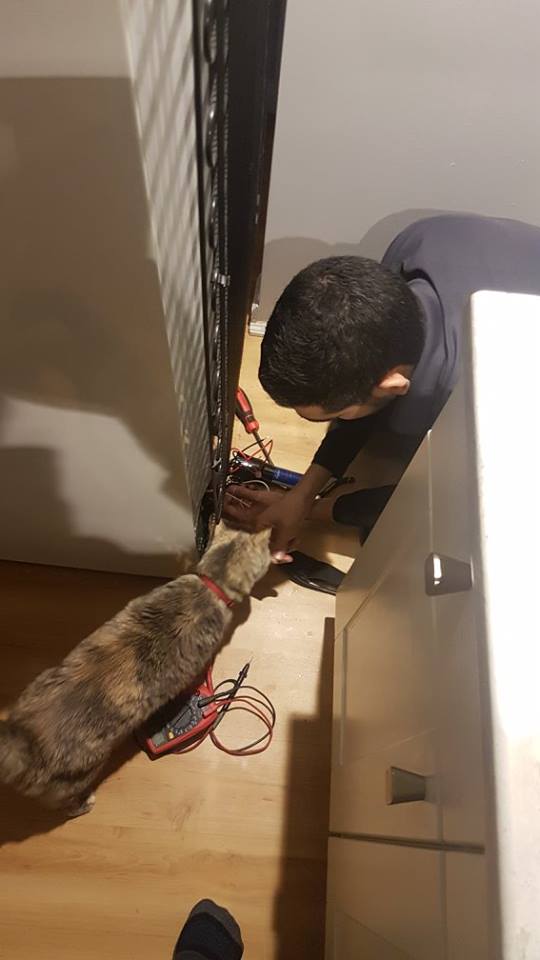 More Care, Less Repair
Most common situation when you require a refrigerator repair, is when your seals are loose and cold air escapes more easily. So, if your refrigerator has accidentally broke, this would be the first step. Dirty refrigerator coils can also provoke faster need for refrigerator repair, because of temperature fluctuations. That is why most of the refrigerator brands suggest to clean coils every four month.
I-Fix Appliance technicians can provide a full refrigerator repairs in Toronto, as well as just essential parts replacement, like coils.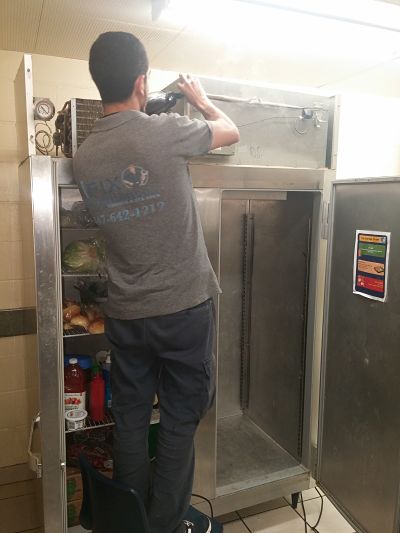 Leave Your Refrigerator Repair to Local Experts!
Just like our washer and dryer repair technicians, our Licensed Refrigerator Repair technicians service Toronto, Scarborough, Etobicoke  North York. All things considered, give us a call and we will get to your right away and do our best to provide on-site repairs, as quickly as possible.
Please know that while we can, in most situations, fix the problem right away, alternatives may be presented to you by our technician, if nothing else can be done. Full descriptions and instructions on what they suggest will be given to you, so you are completely prepared to move forward with fixing your broken appliance.
We repair fridges in Downtown Toronto, Etobicoke, Scarborough, North York areas.