Appliance Repair is our job and responsibility as we, as no one else,  understand what part they play in our client's daily routine. Appliances do our boring chores – washing our dishes, keeping our food fresh, washing and drying our clothes.
They do that almost unnoticed. But when one of your appliances breaks – everything comes to a halt. This is when fast diagnostics and repair by professionals becomes crucial.
Professional Appliance Repair Technicians 24/7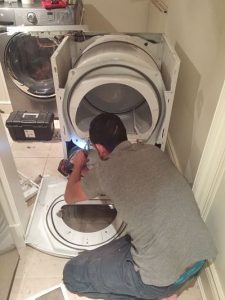 With our trained and fully certified and insured repair technicians, you are only one phone call away from a quick and inexpensive repair of your malfunctioning appliance.
We are trained to repair any major appliance, brand or model. You have nothing to worry about should something goes wrong and it has to be fixed fast! We take care of:
Stove and range repair
Refrigerator repair
Dishwasher repair
Dryer repair
Range hood repair
Appliance Repair – The brands we work with
Worried you might have an appliance that is too old or of a brand or model that we won't recognize? Not to worry! We service all brands, makes and models:
Maytag
Magic Chef
Samsung
LG
Hot Point
Frigidaire
Inglis
Thermador
Sub Zero
Kitchenaid
Dacor
White Westinghouse
Whirlpool
Moffat
AEG
Electrolux
Kenmore
Fisher & Paykel
Viking
And many more
We might have even some solutions for discontinued appliances.
Should You Repair or Replace your broken appliance?
When you have to deal with an appliance that has broken down and requires repair, naturally you will wonder whether it is worth fixing or replacing altogether. And it is only natural to ask.
Of course,  when you purchased your appliance it was a considerable investment.  For sure, you were hoping to get many years out of. However, we also know appliances that are made today are not the same quality that they once were, even as most recently as the last 5 to 10 years.
Manufacturers are under more pressure than ever to deliver higher revenues and higher profit margins. Most of the household appliance parts and, even,  whole units are manufactured overseas now where the cost of labor is much lower and allows appliance manufacturers to invest in new technologies.
The positive side of this is that newer, more efficient and energy-saving appliance models come out every year. And the old appliances become outdated, even though they might be still functioning well. At least in this situation, it is your decision whether to keep and repair the old appliances or get entirely new.
All we can say at I-fix appliance repair is that the price difference is considerable. And cannot be discarded easily.
Here are some ideas of average costs of appliance repair and replacement. Of course, the information below is based on average appliance use.
Average Costs for a Refrigerator Repair  
The average yearly costs for a refrigerator approximately $150+, with average repair costs for the most common components around $300 to $400. The most common parts that need repair are a compressor or a valve.
Should You Repair or Replace your Refrigerator? 
Depending on the brand, you should think about replacing your refrigerator with a new one if the repair estimate is over $700+. It's common, that a refrigerator that has been in service for a very long time, will eventually show it's age. Of all parts it is the compressor will start to break down.
It's been said that an average life-span of a refrigerator is approximately 8-16 years.  You should budget approximately $1500 – $6000+ for a new refrigerator.
Average Costs for Stove and Oven Repair 
An example of some stove and oven repair costs:
Ignitor repair $100-$200
Circuit board malfunction: $225+
If your oven repair costs get into the $390+,  you should consider replacing it.  The expected longevity of an average oven is approximately 10 to 15 years, similar to the refrigerators. Average cost of a new stove or oven is around $700 to $2000+ range.
Washer Repair
Washer and dryer costs to upkeep on a yearly basis is approximately $75 to $100+. Of course, depending on how often the unit is used.  Washer repairs are fairly easy, and, most, involve just checking the connections and making sure that the hoses are secured.
Other repairs might involve:
fixing or replacing the lid switch that controls the spin cycle (around $150+)
replacing valves or gaskets, which can range from $165 and up.
You should start to think about replacing the entire unit if the washer appliance repair starts to exceed the $450+ mark.
On average, it's been said that the washer appliance lifespan is around 9 to 12 years in total, so that's something to think about. A new unit goes for anywhere between $800 to about $1700. But the trick is, you get a much better deal when you buy the whole team (washer and dryer), plus your laundry looks better.
Dryer Repair
Dryer repairs in Toronto are pretty straightforward, as most of the unit is contained within the motor and the coils that power the appliance. Most of the repairs are related to coils, thermostats and the belt. Average repair costs can start at about $180.
You should consider replacing the dryer if its repair in Toronto starts to exceed $450, and it's been said that the average cost of a replacement dryer is about $800 to $1700 depending on the features that the new dryer offers.
Dishwasher Repair
With proper maintenance, you should be able to keep it going for a fairly long time. The average lifespan of a dishwasher can be anywhere between 9 to 12 years depending on the brand.
Mostly, regular dishwasher repair cost anywhere between $150 to $300, depending on the part that needs to be replaced. A typical replacement of a dishwasher appliance is approximately $700 to $1700.
As you have seen from the examples shown above appliance repair is well worth it when it is done professionally, by certified technicians at the time and budget that works for you.
If you are looking for the quick and efficient professional appliance repair in Downtown Toronto, Etobicoke, Scarborough and North York areas, contact I-FIX Appliance Repair at (647) 642-1212 and speak to one of our trusted and certified technicians today.