Get a brand-new sparkle with these easy appliance cleaning tips. Your kitchen appliances with look and preform even better when you show them some love. Each appliance is different and requires a certain procedure to help them do their best job. Fear not! Keeping up monthly with these quick-and-easy tips will have your kitchen looking great, and doing even better.
Refrigerator Cleaning Tips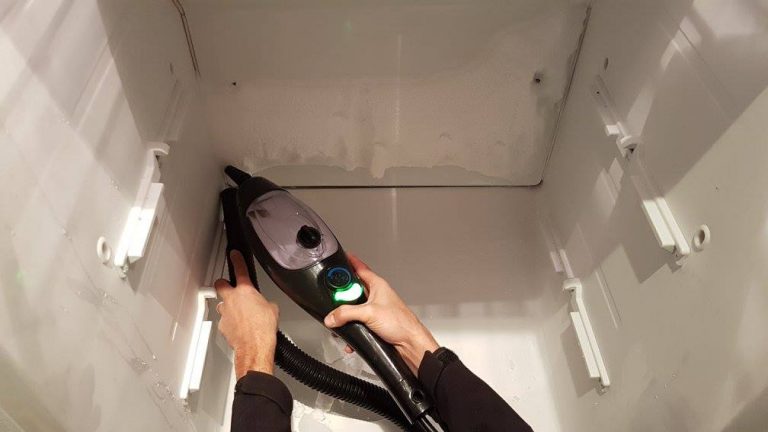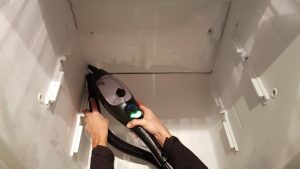 Brace yourself when your check behind your fridge as it's deemed the dirtiest spot in homes. It collects all of the dust and debris that have fallen behind it. When cleaning it, you should:
Pull out the fridge and clean up the mess, then follow up with a vacuum to clean the coils behind or underneath the appliance. This prolongs its life by being gentle on your fridge's motor.
Replace any loose door gaskets. You can find more details in your user manual to determine which replacement parts you need: you'll save energy with a tighter seal!
Use soapy water, or create a 50-50 water and vinegar concoction to make your fridge dazzle both inside and out. Shelves and crispers should be wiped down weekly, and fingerprints will disappear with a damp cloth on stainless steel faces.
Stovetop and Oven Cleaning Techniques
Certain ovens have self-cleaning options. However, not every inch can be reached this way. Door hinges and frames can accumulate gunk, and the space between double ovens can catch a plethora of things!
Ovens can be cleaned by:
Using vinegar and soap water for a quick clean to wipe up the debris. Likewise, you should make it a habit of cleaning up spills as they happen to keep deep cleaning to a minimum.
Stovetops can be cleaned by:
Filling your sink with hot soap water and start soaking burners, knobs and hood vents, then scrub clean.
Replace stained metal drips plates if they can't be properly cleaned.
Vacuum any crumbs that have fallen between the cracks.
Dishwasher Cleaning Steps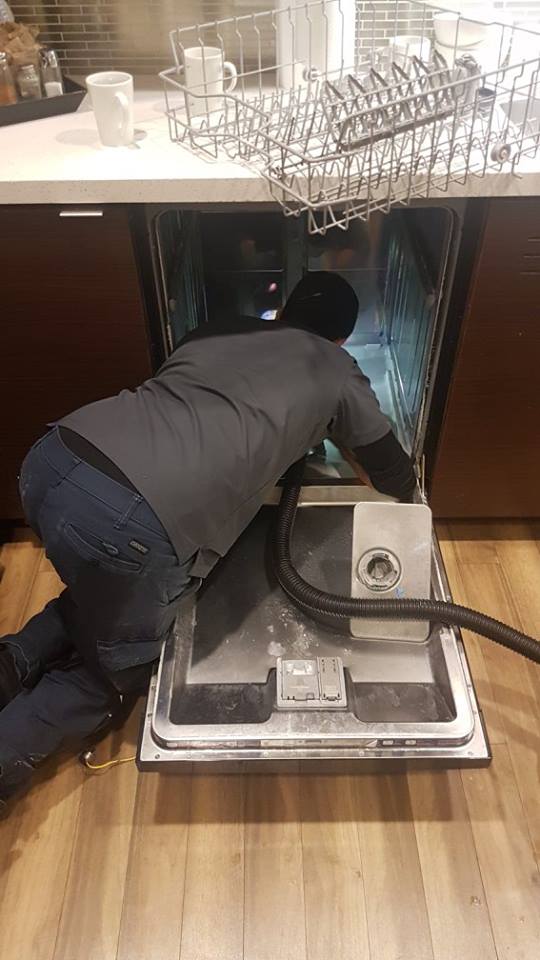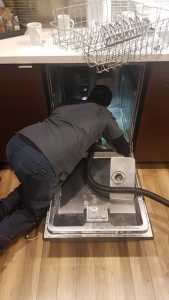 You would assume your dishwasher cleans itself, however that is not the case! Be sure to check the drain at the bottom for debris and wipe the gasket to make sure the door is tightly sealed.
Likewise, you can deodorize your appliance by running the machine with a bowl of white vinegar on the top rack. Make sure you empty it after for a full cycle.
i-Fix Appliances knows the importance of a clean appliance that runs properly. For a quick, caring and reliable service when your new appliances stop working, call us. We are servicing countless areas such as Toronto, Scarborough, Etobicoke, and North York. For any of your appliance repair needs contact us here.
Spring Cleaning? Don't Forget About Dryer Lint Cleaning
We are all sure happy that the winter is over and are looking for warmer and brighter days. Now even the routine spring cleaning will feel good. You definitely will not forget to take care of the windows, closets, hard to reach places under the furniture… But it rarely comes to mind that your dryer lint build up needs special attention and will need professional cleaning.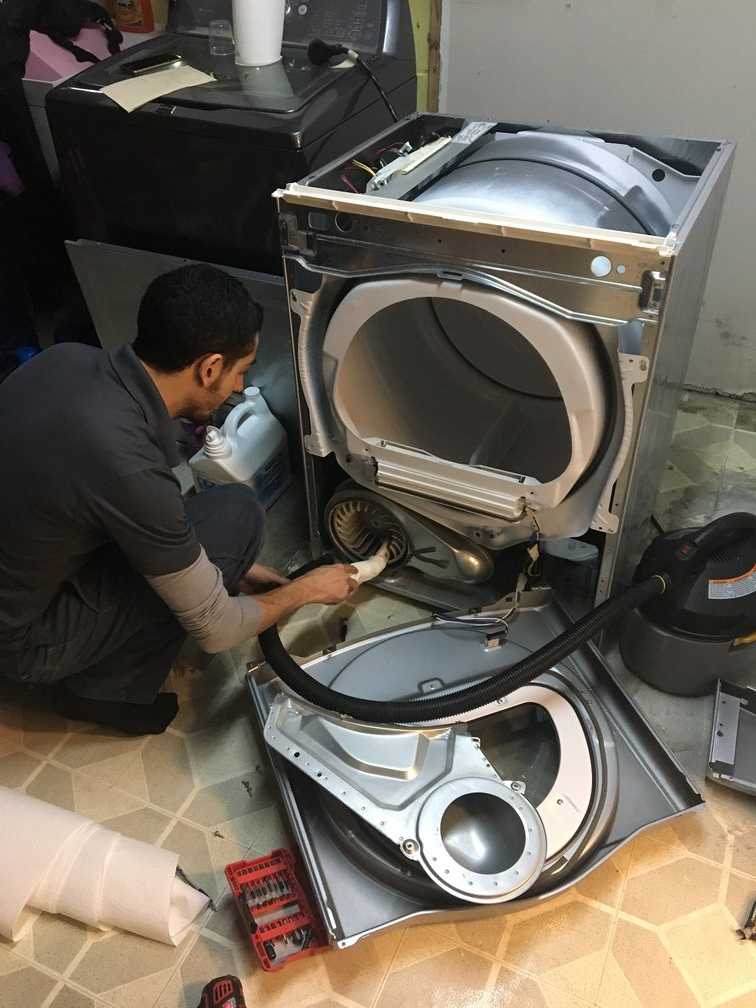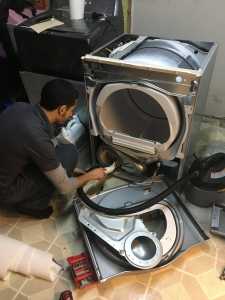 Why Clean Your Dryer From Lint?
Although invisible as it is deep inside your dryer, especially after drying your winter clothes that mostly have higher pile and leave more lint in your dryer, it is really dangerous – a little electric spark or overheating, may set your laundry room on fire in seconds. In fact, thousands of fires resulting from lint buildup in dryers are reported across Ontario annually.
If you happen to look at dryer lint trap, which you, hopefully, clean after every cycle of drying you will get the idea of how bad the buildup is only over a few years inside your dryer, where it is not accessible for routine cleaning. Moreover, the lint accumulation clings to the motor and electric wiring inside. Not to mention small parts, coins and little toys that fall out of the pockets and get trapped there risking to get stuck and damage the moving parts of the dryer. It is an accident waiting to happen.
To clean it properly, the front dryer panel has to be completely removed. Lint is then being cleaned out with specialized bushes and vacuum cleaner. It is an easy job for professional, but is not an easy project to DIY. Once the dryer is disassembled and cleaned, our trained technician will be able to look at it and see if there is any minor tuning needed as well.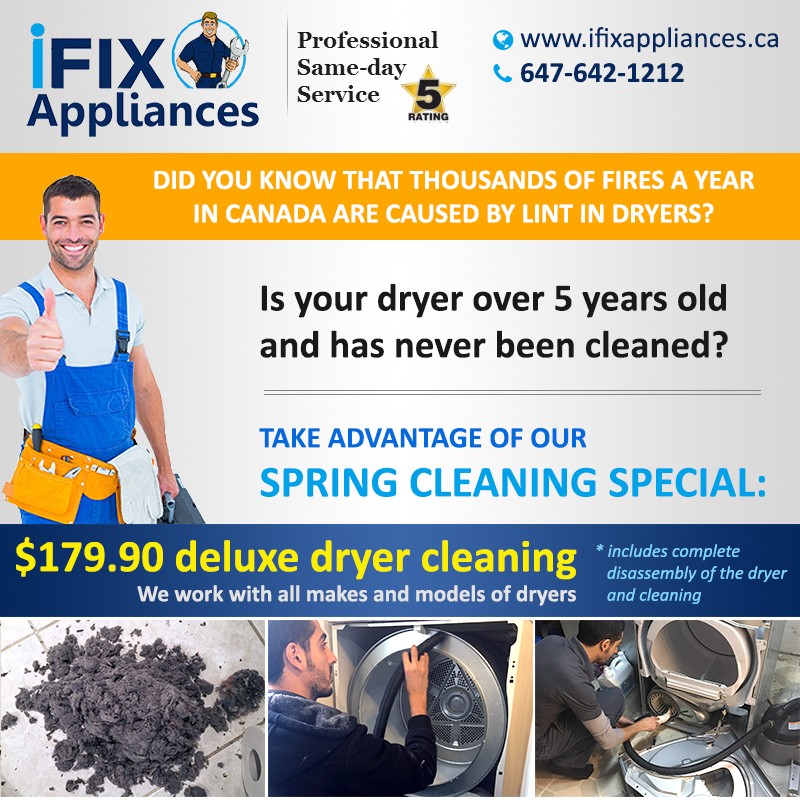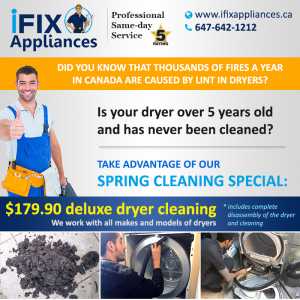 Call I-Fix Appliances or book an appointment for your Dryer Spring Cleaning and have it done by a certified technician!
We will disassemble it right on the spot and have it cleaned and back in working condition in no time! Ask for our Spring Special offer!